Due to increasing spam emails going on the planet today, multiple mailbox providers are implementing spam filters to over come spammers. To overcome this, authentication protocols like SPF and DKIM comes in handy to overcome spammers. This is why setting up SPF and DKIM records for your domain is important to ensure your emails reach the recipient's inboxes and do not mistakenly get flagged for spam.
In this tutorial, we will be showing you how to enable SPF and DKIM record on any cPanel hosting account.
In summary, SPF is used to allow the receiving servers to check if the email is coming from a domain that was sent was sent from server, which was authorized by owner of Domain.
On the other hand, DKIM validates the signature of each message, to check if the message is sent from an authorized sender.
Assuming a domain is pointed to the hosting server's nameservers:
By default, if your domain is pointed to the hosting server's nameserver records, all records like MX, SPF, DKIM will be automatically added. All you have to do it enable it by few clicks if it's not.
Login to your cPanel -> Email -> Email Deliverability
Select the domain and click manage, in below reference the records are automatically installed and are valid.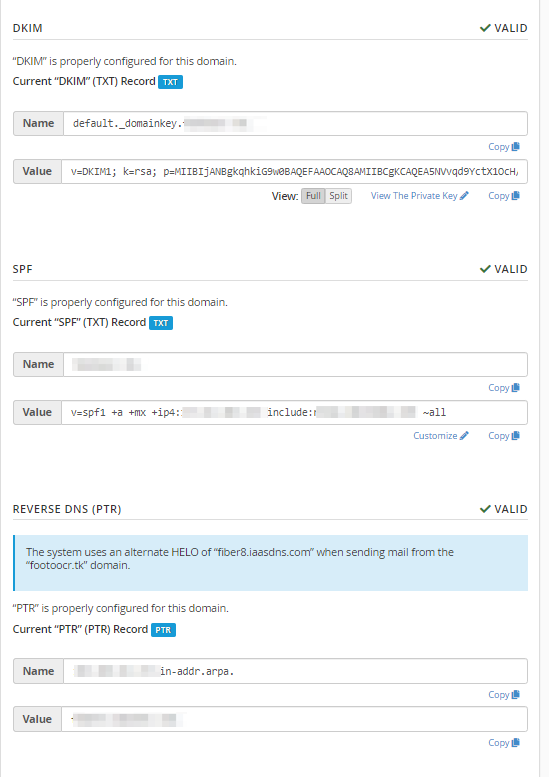 If records are not valid or not enabled, you need to just click "Install the Suggested Record"
Domain Pointed to External Name Servers
In case if your domain is pointed to External Nameservers such as CloudFlare or if you utilize your domain registrar's DNS management service for your domain, you need to copy the above records of your domain from cPanel -> Email -> Email Deliverability -> Domain copy the records SPF, DKIM, PTR and set the records accordingly within your DNS configuration.
After the DNS records are successfully updated, you need to wait for 24 hours for DNS propagation to take place.
Looking for a reliable shared hosting provider powered by cPanel? Take a look at RackNerd's cPanel hosting plans here.