RackNerd shares tips and insight on leading, learning, help and execution.
By Jon Biloh at LowEndBox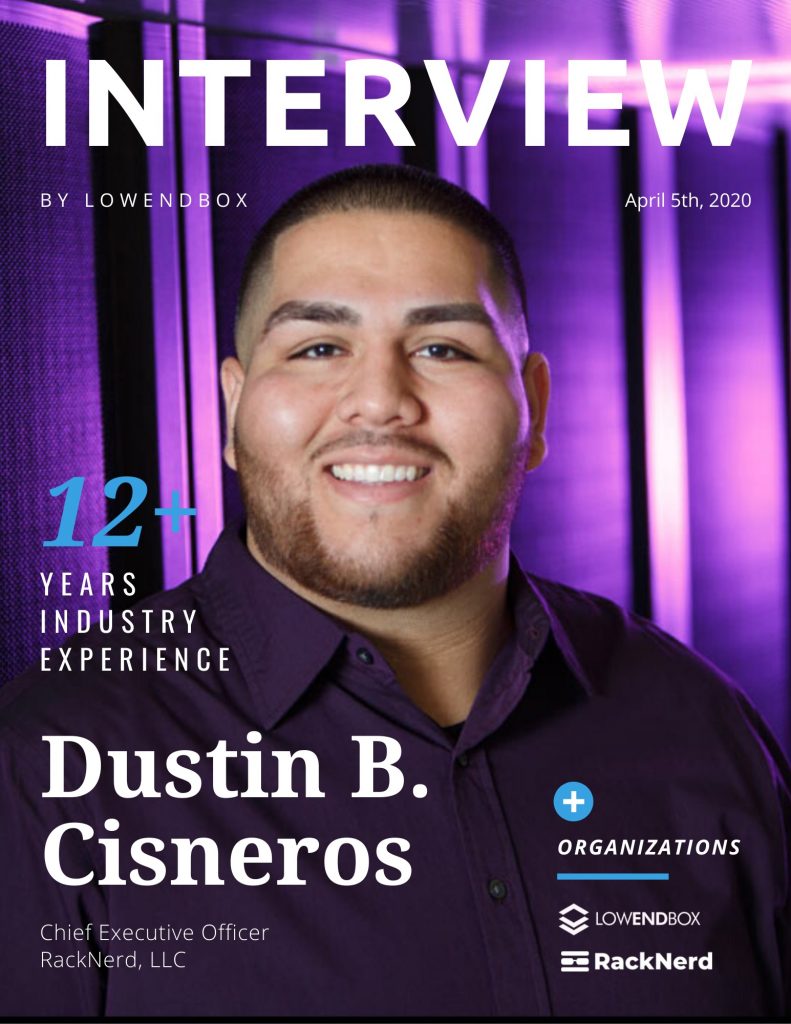 As part of a new series of interview style Q/A sessions we will be rolling out, LowEndBox had the opportunity to interview Dustin B. Cisneros of RackNerd (www.racknerd.com).
Dustin, a 12 year industry veteran, currently serves as RackNerd's Founder and CEO, and his company services customers out of 8 global datacenter locations.
What can you tell us about yourself, how you got to where you are today, and your role at RackNerd?
I first entered the web hosting industry 12 years ago, with focus on three product lines: dedicated servers, shared hosting and reseller hosting. During the earlier stages of my start-up, I was essentially running every department myself. By doing this, I learned the workings of the hosting industry and I learned the importance of customer communication, rapid support, and what it takes to deliver an outstanding hosting experience. Fast forwarding to years later, the company grew to over 4,000 active customers with nearly a dozen remote employees under my wing.
In 2011, I began working at a data center services company with three US-based facilities, and throughout my tenure, I expanded the company's footprint to 9 global datacenter locations and sold millions of dollars in revenue based on my individual sales efforts. I have had the opportunity to deep dive into complex business problems and solve them with elegant and modern technology solutions. Not too long after I started, I quickly worked my way up the ranks within the organization, eventually leading the entire pack in every department you can imagine!
After nearly eight years of employment, I desired advancing my personal and professional growth. I resigned my leadership position and launched RackNerd. Today I serve as the company's CEO where I get to apply what I know and learned towards leading a customer-driven and service-oriented company. As of March 2020, we operate in Los Angeles, Utah, Dallas, New York, New Jersey, Montreal, London, and Amsterdam – serving clients from every continent of the world (except for Antarctica!). RackNerd plans on continuing to expand its global footprint, while delivering the highest level of service to individuals and businesses alike.
What advice would you give to business owners today, or those aspiring to become one?
My best piece of advice is to operate your business and be in control of every aspect of the ship. I'm personally not a fan of the word "delegate" because that's an action that a lot of executives take today under the false belief that things will be "taken care of" or be "under control." No, I want to see for myself, know that my business is headed in the right direction, and be assured that my customers are satisfied.
It's important to make sure every vital (component) of your business is being managed as if your life depends on it. Know every single detail about your company. As the company owner, the reality is you will always have a certain eye for things that other employees simply won't see.
Lastly, being in active communication with your team and your clients is an important ingredient to set your company up for success and happy customers. Good business is all about communication – put yourself in your customer's shoes. Frame and articulate your communication in a way that people can actually hear – while over-delivering on the promises and expectations that you've set.
What is the most significant characteristic that makes RackNerd as respected and competitive as it is today in the industry?
RackNerd remains competitive in the industry by confronting the challenges each and every business faces. We are leveraging our industry experience with market intelligence to minimize and eliminate growing pains during our scaling. Our educated and competent staff cares greatly for our clients and the overall sustainable well-being of RackNerd. With a great passion for the industry, we're taking on the competition, not just on price — but on service.
What do you like most about your role, and the space you're in?
Running the ship of a company with global data center locations, I take great pride and joy in communicating with, and designing solutions for customers and companies from all over the world. It's truly a unique experience to interact with customers from different cultures, and finding ways that I can add and exchange value. Also, the fact that while I'm in total control, I am still learning. I enjoy this industry, as you can constantly develop, learn, teach, and help others.
Speaking from both a personal and professional standpoint, what is one guiding principle that you live by – perhaps one that aspiring business owners or executives should consider adopting?
Be the solution, not the problem. I take responsibility for everything that happens in life – and that includes my business. I am a firm believer that when you give up responsibility, you give up control.
Say you run a company, and you're constantly complaining about how your people aren't being productive. Why not take responsibility and do something about it to change the condition? Early on in my professional career, I started taking the stance of how I can solve the problem (being the solution, rather than passing on the problem), and this is one very important guiding principle that I live by religiously to this day.
What are some of the toughest challenges you've witnessed in the industry, and what are you doing to handle them differently?
I see the greatest challenge in the cloud and hosting industry today as being a lack of commitment from providers to their customers. Additionally, a lack of expertise in the solutions being delivered. Not only are we very clear on our mission, our entire team is on the same page of over-delivering and ensuring we are over-exchanging in service and value delivery with our customers.
Are there any new developments in the works that would further serve the needs of the hosting industry worldwide and contribute to your commitment to global expansion?
As a globally diversified provider of hosting solutions, we have amassed a portfolio of customers who have location-sensitive (latency) requirements. To achieve our Q3 2020 roadmap goal, and with our clients demanding greater global presence, we are actively negotiating contracts to expand our service offerings to additional data center locations.
Dustin, thank you for giving us a great amount of insight into who you are, the way you operate, and your company: RackNerd. This is great content, and is encouraging to both consumers and business owners browsing our website. It is clear that with your attention and unique approach in servicing customers, delivering a tremendous value is the key takeaway that entrepreneurs should live by in order to survive and grow as a business.
Absolutely, I've personally been part of the LEB community for over a decade and I continue to seek opportunities to help others and share knowledge however possible. I am highly passionate about meeting like-minded individuals and hearing new (and different) perspectives; I welcome anyone and everyone to connect with me on LinkedIn, or by email at dustin[AT]racknerd[dot]com. Thank you so much for having me on the interview spotlight today!
To learn more about RackNerd, please visit https://www.racknerd.com/ or click on the thumbnail below.