RackNerd was recently featured on an op-ed guest editorial post on a web hosting blog. Our CEO shares the below tips on how to achieve more in the post-pandemic world.
A copy of the guest post can be found below: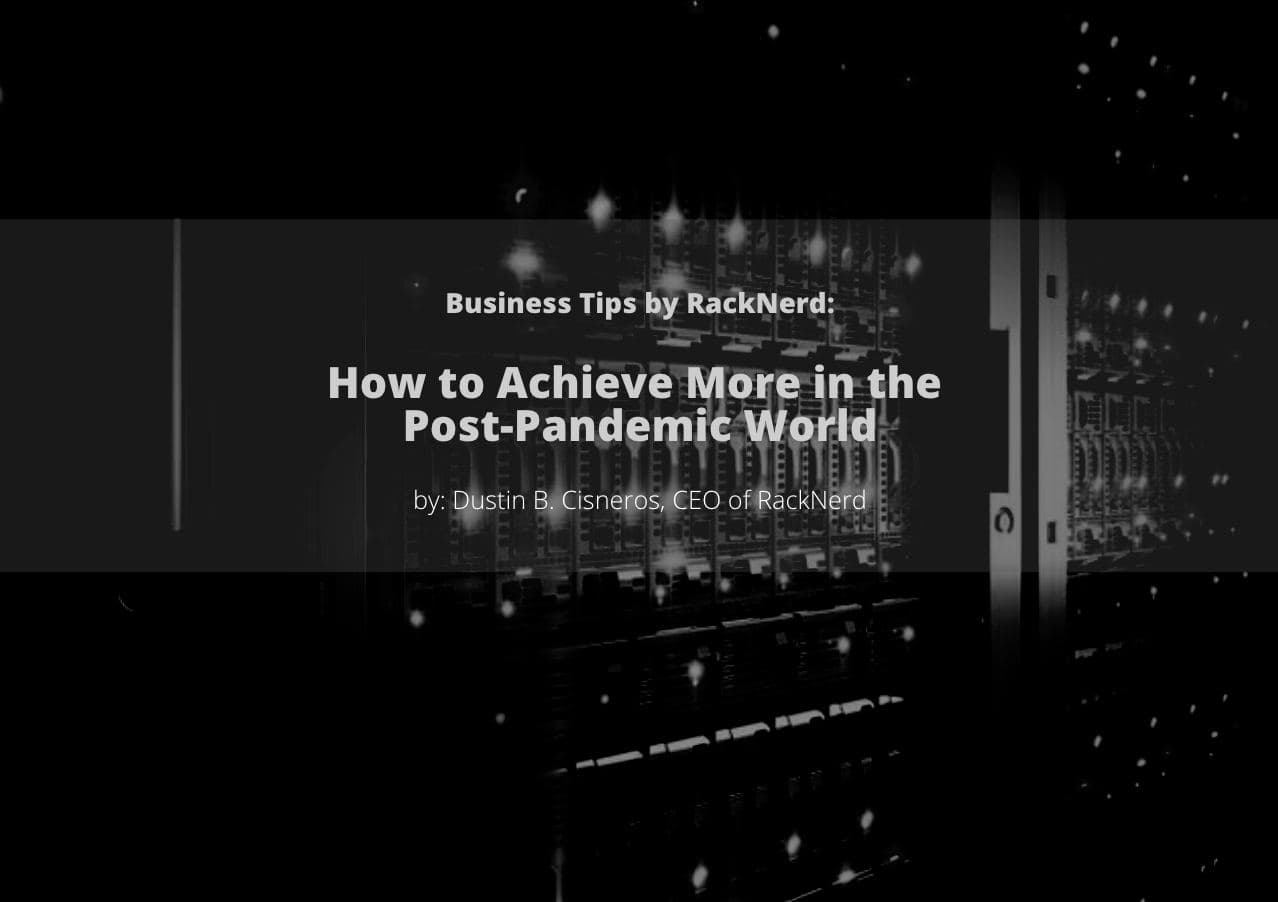 Continuing our Opinion-Editorial and Guest Article Series, today we are talking about how to achieve more, in a post-pandemic world.
Seeing that we are all now transitioning into a post-pandemic world, today I wanted to share some tips with you on how you can achieve and do more. Perhaps you're an individual who aspires to do more, or perhaps you're a business owner. Whatever your current situation may be, here are some key points to keep in mind:
#1: OMNIPRESENCE IS KEY: What does this mean? This means that your brand should be everywhere, widespread, and constantly encountered. If people don't know about your brand… they can't transact with you. You may not earn business immediately, though it's important to realize customers often sign up after seeing several marketing campaigns. As an example, RackNerd is actively engaged with the web hosting communities, as well as multiple social media platforms. Are you engaging with your client base, on the platforms they are engaged on? Technology makes it possible to be omnipresent today, so use this to your advantage!Perhaps this translates to more ads, even though it may not necessarily generate an instant or desirable "return on investment" – it will at the very least, get your brand more well known to your audience.
#2: DON'T BE PASSIVE: Look, the reality is – your business does not run on auto-pilot, and customers can always appreciate the value of being with a company that has active management, and an owner that is truly involved and cares about customers. I am a firm believer that there are always certain things that you should never delegate as a business owner, remembering that no job is beneath you, and the willingness to adapt into different roles and communicate with customers is important.
#3: STEP ON THE GAS: Action wins, every time. How many times have you ever told yourself, "I'll work on it soon, "I'll do it tomorrow," or "I'll get to it on Monday"? Let's face it: when you say that to yourself, you are only deprioritizing that one thing or action.I challenge you to operate with urgency going forward — do it NOW rather than later, and start creating and building your brand. Try this and go tackle all the pending tasks you have on your to-do list today instead of putting it off to another day – I promise you'll feel more confident, ready to take on and do more!
#4: FIGURE OUT WHAT GETS YOU EXCITED: The lack of motivation, or what some people refer to as "burn out" – is actually caused due to a lack of purpose, passion, and initiative.You need purpose, both personally and professionally.
For me, it's about focusing on the correct target – and the desire to expand in every area of my life; both personally and also in my business. I never want to condense or scale down, and this understanding of expansion truly inspires me, because I know that any organization or business can only save or scale down so much – while on the other hand, the potential to grow, expand, and create more is unlimited (which is why I'd much rather have attention of expansion and growth).I'd like to think that my company, RackNerd, has been an exemplary example of this – we started off in one datacenter location and have since grown to 17+ global datacenter locations, and have experienced tremendous growth even throughout a pandemic. While others were focused on figuring out ways to shrink down, in the middle of a pandemic we went out and had our full attention on expansion – more product lines, more datacenter locations, obtaining real office space here in Southern California, hiring more staff, introducing more features to existing customers, and so much more. We have more exciting news, related to additional expansion to share soon with the community!
#5: CONFRONT SALES: Realize that your business is a sales organization, and it requires sales and customers in order for it to be a business. In the process of figuring out how to scale your sales team and sales presence, it's also important for you as a business owner to not lose focus on everything else that matters (operations, support, customer experience, etc). What do you need to do to achieve that? Perhaps it might mean onboarding more staff, or perhaps it might mean more involvement from you as a business owner. Operate with full and complete certainty, as doubt slows down any organization. Take a look at my last guest post here where I talk more in depth about how to sell, what to sell, and what to avoid selling.
Thank you for taking the time to read, I truly hope that this helps point you towards the right direction, or at the very least inspires you to achieve and do more with your business! I am a strong believer that one's own potential is truly unlimited, even though he or she may not have fully realized it yet. Hard work and helping others has always been characteristics that inspire me a lot, so if at least one fellow community member here can improve their condition by reading this, then I'm glad to have made a positive impact by sharing this post.
I'm always open to connecting with other like minded individuals or business owners. Feel free to connect with me on LinkedIn, or e-mail me at [email protected] if you have any questions or if you'd just like to say hello. Also, feel free to comment below if you have any additional feedback, or ways you've found work in helping achieve more!