Did you know that more than 850,000 websites are still using the old TLS 1.0 and 1.1 protocols? Support for this is finally being scheduled to be removed from most major web browsers between March and April 2020.
TLS 1.0 and 1.1 are antiquated protocols – both released in 1996 and 2006, respectively. New versions of these protocols are TLS 1.2 (released in 2008), TLS 1.3 (released in 2017) – both of which are much more safer to utilize and more ideal in comparison to 1.0 and 1.1.
So what does this mean to you?
If you have an old and relatively unmaintained website, chances are, you might still be one of the 850,000 websites still running on TLS 1.0 or 1.1. Websites still running on this protocol will stop loading on most major web browsers within the next month – this includes Google Chrome and Mozilla Firefox. When a user attempts to load your website, it will show something like this instead: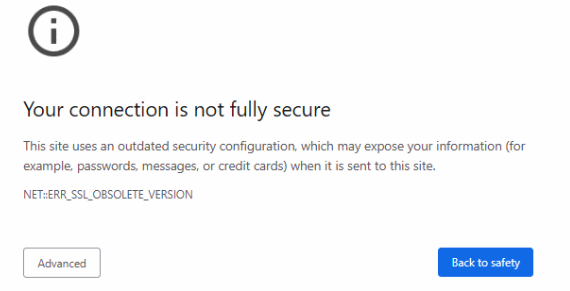 The solution is to upgrade your TLS protocol so that your HTTPS based website will continue to load normally after these major web browsers make these changes.
RackNerd Shared Hosting & Reseller Hosting Plans run on updated TLS versions, and include Free SSL Certificates.
Need help? Have any questions?
Feel free to leave a comment below if you have any questions regarding these TLS protocols. We would be happy to provide guidance.