Changing SolusVM Control Panel Password:
STEP #1: Go to the VPS Control Panel  https://nerdvm.racknerd.com/ and enter your Username and Password.  The login credentials to this can be found in your welcome email, or by watching this video.
After logging in, this will take you to home page of your control Panel.
STEP #2: Click "My Account" at the top of your home screen, then you will be directed to a page that looks like this: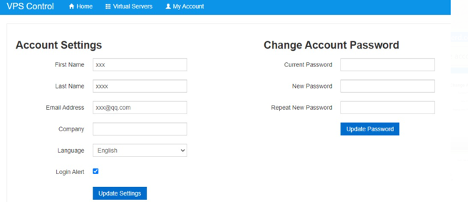 STEP #3: Now, enter your current password and new password and click update password. You are done and have now updated the password to access the RackNerd VPS Control Panel (SolusVM).
If you have any questions, please don't hesitate to contact us by opening a support ticket.
If you are not a RackNerd customer yet, be sure to check out our KVM VPS equipped with SolusVM VPS Control Panel here: https://www.racknerd.com/kvm-vps