UPDATE: We've all moved in! Take a look at progress updates and pictures here: https://blog.racknerd.com/racknerds-new-office-space-in-rancho-cucamonga-with-pictures/
—
In the middle of a pandemic, we went out and opened new office space in Upland (Southern California) destined for RackNerd's Headquarters location, as we shared in previous blog posts.
With the help of our valued customers, we've grown and scaled RackNerd very quickly – from zero to a multi-million dollar revenue business, now currently serving customers out of 17 different datacenter locations globally. All of this would not have been possible without our customers, and we would like to thank you for being part of our journey and for making this possible.
We are a customer service centric company, and we constantly make investments in our customers. This is made more and more evident by our continuous expansions, additional product features, and most importantly it is clear in the service we provide. Our reputation is excellent, our support is rapid, and our performance is second to none.
Within the first five months after moving into our existing office space, we experienced tremendous amount of growth from global customers as well as the local community, so much to the point that our CEO, Dustin B. Cisneros, had expressed interest in searching for a new office space. In Dustin's own words, he specifically said:
"Overall, great office, especially as a starter office. We committed to it during the pandemic, as we have been thriving since our launch. It's a great way to be closely connected to local businesses, as well as hire local talent. We do plan on moving from here, to something bigger. Possibly like an industrial building, and doing something cool with one. We will see. We are signed here for now, for two years."
No doubt, an industrial building is totally cool, as it allows for office space to built to spec, for example in an industrial zone, you're able to build out spaces with private restroom, kitchen, sink area, etc. Not to mention, the ability to scale SQFT (essentially build whatever you can dream of).
Today, that intention has come true, fulfilling not only our dreams and desires, but this is a continuous illustration of our effort to continue on our mission of expanding. Despite signing a two year term, we're moving much sooner than that, just as we originally moved into our existing space much sooner than originally planned for.
We believe that nothing in this universe stays the same – a condition can only improve or worsen. Here at RackNerd, we are constantly looking to improve, and by doing so – our customer's benefit. Despite a global pandemic, we went out and had our full attention on expansion – more product lines, more datacenter locations, obtaining real office space in Southern California, hiring more staff, introducing more features to existing customers, and so much more. We're grateful, and thankful to have you as a customer. We're sincerely excited for what the future brings.
We're Moving! Introducing RackNerd's New Headquarters in Rancho Cucamonga, California!
You read that right, just a year after moving into our new headquarters space in Upland, we've experienced massive growth and quickly outgrew our Upland office, and identified the need that we needed to open a new headquarters office location that could keep up with our growth in order to assist our ever growing client base.
As of today, the paperwork has officially been finalized, and RackNerd is pleased to announce that we will be moving our headquarters offices!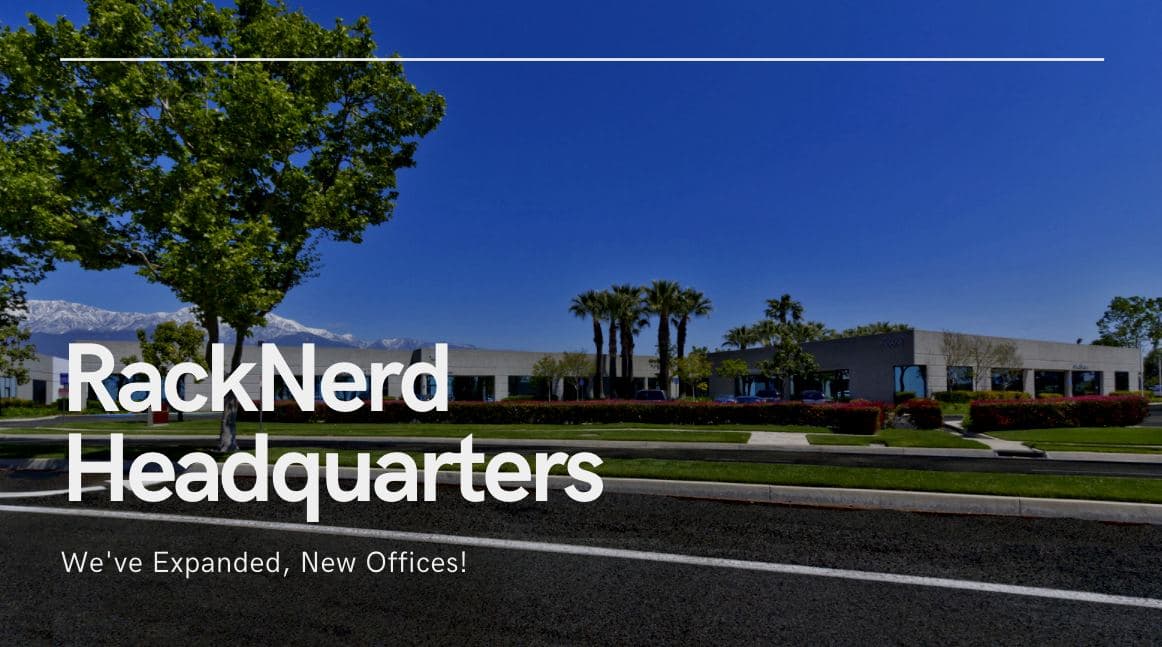 Our new headquarters will be located in Rancho Cucamonga, approximately 8 miles away from our existing headquarters space in Upland.
Rancho Cucamonga is an affluent city located at the foothills of the San Gabriel Mountains. Rancho Cucamonga is located approximately 37 miles east of Los Angeles, and thanks to its prime location and stellar amenities, it is the 26th most populous city in California.
Fun Fact: Did you know that Rancho Cucamonga is the primary setting of the show "Workaholics," and the movie "Next Friday"?
Construction crews are beginning work soon, and more pictures and status updates will follow! We currently have a tentative move-in date of August 1st, 2021 to RackNerd's new Rancho Cucamonga office space! Stay tuned for more updates, and thanks for reading!