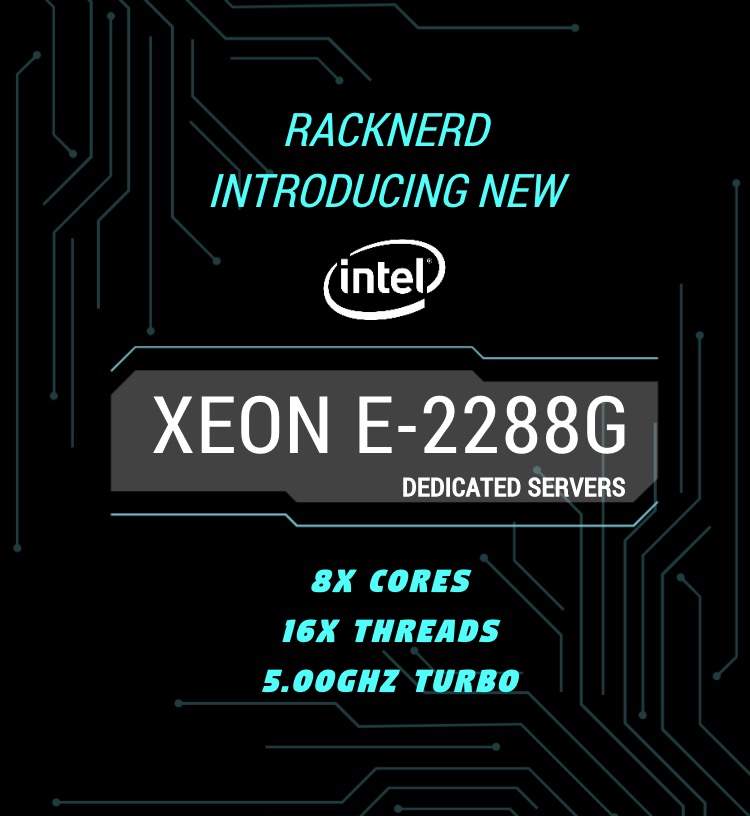 RackNerd is pleased to introduce our new Intel Xeon E-2288G dedicated servers, now available to deploy in our west coast datacenter locations (Utah and Los Angeles).
These new CPU's provide 8 cores, with 16 threads — with a 3.70 GHz processor base frequency (5.00 GHz turbo frequency!). For general use cases, and even heavy-load use cases such as applications that demand single threaded performance, our new E-2288G dedicated servers are a great fit. We've been seeing a lot of interest lately from the gaming and transcoding market requesting these particular CPU's and we're proud to be able to deliver an affordable solution. In terms of performance benchmarks, the E-2288G CPU's boast a 17,320 score on PassMark – making it one of the most attractive CPU's in its segment, given the high clockspeeds.
Best of all, these CPU's come with integrated graphics support, with iGPU and QuickSync enabled – making these servers ideal for transcoding use cases as well.
With DDR4 memory, these servers are highly customizable up to 128 GB of RAM.
For our E-2288G server launch, we are currently offering a 15% off discount. Just use promo code "15OFFDEDI" when ordering to obtain this recurring discount!
Intel Xeon E-2288G Dedicated Server:
Intel Xeon E-2288G – 8x 3.70 GHz / 16 Threads (5.00 GHz Turbo)
32 GB DDR4 RAM
1 TB SSD
35 TB Monthly Transfer
1Gbps Network Port
Premium Network Blend
/29 IPv4 Allocation – 5 IPv4 Addresses
iGPU / QuickSync Supported
Utah or Los Angeles – West Coast Datacenter Locations
$189/Month, $0 setup
DISCOUNTED PRICING: $160.65/Month, $0 setup fee
Order Link: https://my.racknerd.com/cart.php?a=add&pid=306
Promo Code: 15OFFDEDI
We can provide affordable upgrade paths as well, such as ability to upgrade the above configuration to 64 GB RAM, or 128 GB RAM. NVMe storage options are also available, just contact our sales team at [email protected] to customize a build!