RackNerd is pleased to announce a new firewall unblocker feature, now immediately available for all shared & reseller hosting clients.
RackNerd employs a security firewall with all of our shared/reseller hosting servers. This provides a plethora of security-related features to you, allowing you to be rest assured that your websites are always protected from hackers, bruteforcers and attackers at all times. However, there are rare occasions where this can sometimes trigger a false positive — if, for example, you or your client's actions mimic behaviors that the firewall looks out for (such as excess failed login attempts, excess failed FTP login attempts, excess failed e-mail log in attempts, etc). To mitigate this, we are introducing a tool that allows you to unblock yourself, or your client's IP address on-demand and immediately, from within the self-serve client portal, without having to contact our support team!
NOTE: If you are not yet an existing RackNerd shared/reseller hosting client, check out our Shared Hosting and Reseller Hosting plans! All shared/reseller hosting servers are fully whitelabel and powered by the cPanel/WHM control panel. We empower our customers with plenty of features available at their fingertips, such as this!
Step #1: Log into your "My RackNerd" Client Area and select on the Services section. Here's a direct URL to the Services Page: https://my.racknerd.com/clientarea.php?action=services
You will then see a page similar to this. Select the shared hosting or reseller hosting service respectively.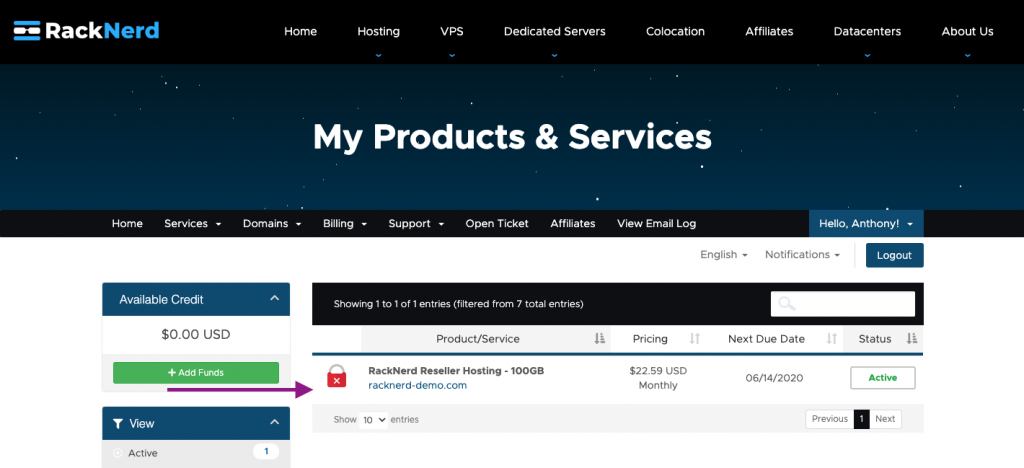 Step #2: Once selected, please allow up to 15 seconds for the page to fully load. Once loaded, you will see a page similar to the below screenshot.
Under the "Firewall Connection Checker" section, you have two options:
"Check Firewall" – this is the first tab. If you find yourself unable to connect to cPanel/your websites, use this feature. Click on the green "Check Firewall Block" to check if your IP address is listed on the Firewall Blocklist. From there, you can unblock your IP address and you can skip the below steps.
"Search Client IP" – this is the second tab. If one of your customers find themselves unable to access their websites, ask them for their IP address (if they are unsure, they can use a tool such as IPChicken to obtain this information).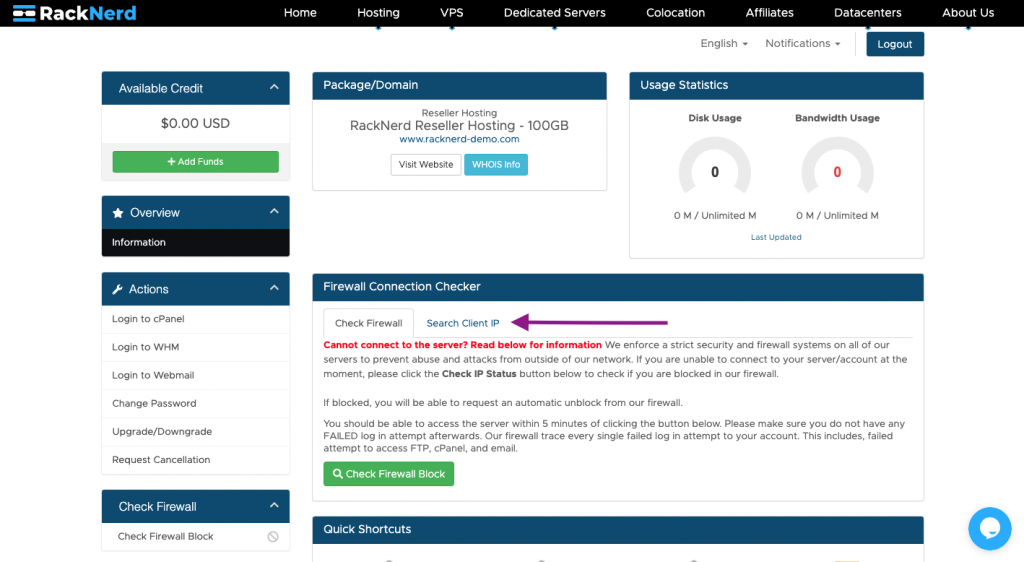 Step #3: Enter the client IP address that you are looking to unblock from the firewall, as pictured below.
Step #4: Click on the "Search Client IP" button, and the next screen will let you know if the IP address is currently blocked by the firewall or not. In the below screenshot example, we see that it is.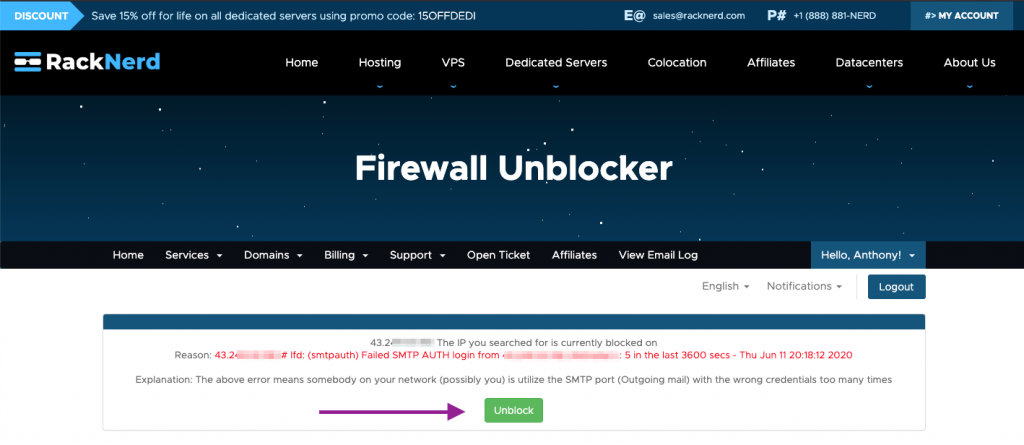 Step #5: Click on the green "Unblock" button. Allow one minute for the server to make the changes to the firewall, and the respective IP address should be able to access the server and websites hosted on it again.

If you have any questions regarding this new self-serve tool/feature, please feel free to contact us at any time. RackNerd's support personnel are available 24 hours per day to assist you.