In this blog post we will be putting on the spotlight, yet another feature included for free with RackNerd's shared & reseller hosting platform. Since this feature works so seamlessly, some of our customers don't even realize this awesome feature is in place! It's one of those things that just run in the background and makes your life so much easier, without you realizing it. We thought that a blog post outlining this awesome feature would help bring more awareness to this beneficial feature.
Did you know that RackNerd includes a WAF (web application firewall) with all of its shared hosting servers? This is a feature that many shared hosting providers do not include, which can end up costing you more money in the long run. By choosing a provider like RackNerd Shared Hosting which already has this features included, you benefit! With third party WAF tools such as Sucuri costing $199+/year and Wordfence costing $99+/year, this puts RackNerd shared hosting customers at a major advantage, as our included WAF powered by cPGuard eliminates the need for you to subscribe to a third party WAF or security service such as Sucuri or Wordfence. In some cases, our shared hosting can even be cheaper than a Sucuri or Wordfence subscription alone! By using RackNerd for hosting your website, you are not only saving money, you are saving money and then some more.
Our WAF is updated in real time, and is loaded with 750+ rules which can stop a majority of web-based attacks towards your website. It is highly specialized and maintained by hosting experts. It is ideal for websites running on platforms such as WordPress or Joomla as well. In addition to our custom WAF rules that are intelligently loaded and updated in real time, RackNerd's WAF feature also leverages Malware.Expert's commercial ModSecurity rules.
RackNerd's WAF is a system-level firewall that can block many attacks at the system level, before it even reaches your website. It is highly intelligent and optimized for many different types of use cases and scenarios. Furthermore, the WAF is updated daily in real-time to ensure it stays relevant and reacts to the newest/modern types of attacks.
See below for a real screenshot of our WAF feature intelligently blocking automated malicious traffic for a shared hosting customer of ours – this information is visible to you from within our cPanel cPGuard interface as well! This keeps your website secure and gives you additional peace of mind.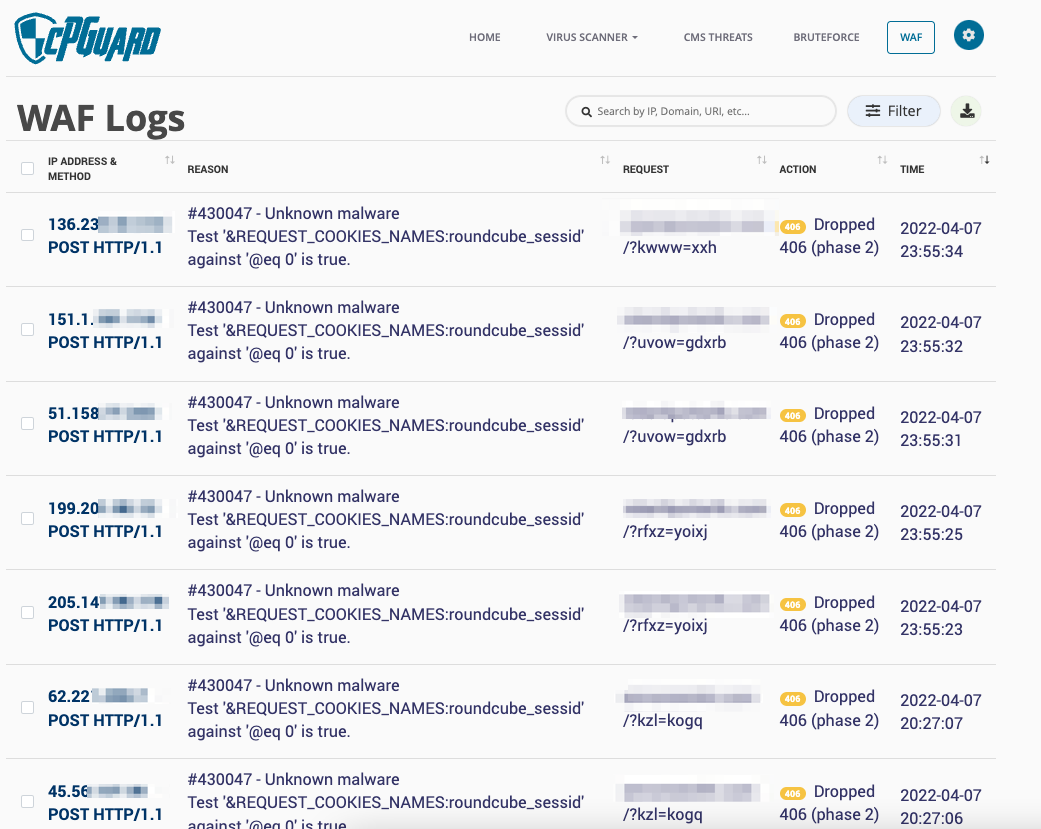 Already a RackNerd shared hosting customer? The WAF is already enabled by default – without any action needed from your end. The WAF is smart and does not interfere or negatively impact your website. It is able to detect the difference between a human visitor and a malicious automated visitor on your website. If you're curious as to whether or not any WAF attacks have been blocked for your site yet, just log into the cPanel control panel and select cPGuard > WAF.
Not yet a RackNerd customer? Take a look at our Shared Hosting Plans powered by cPanel here: https://www.racknerd.com/shared-hosting